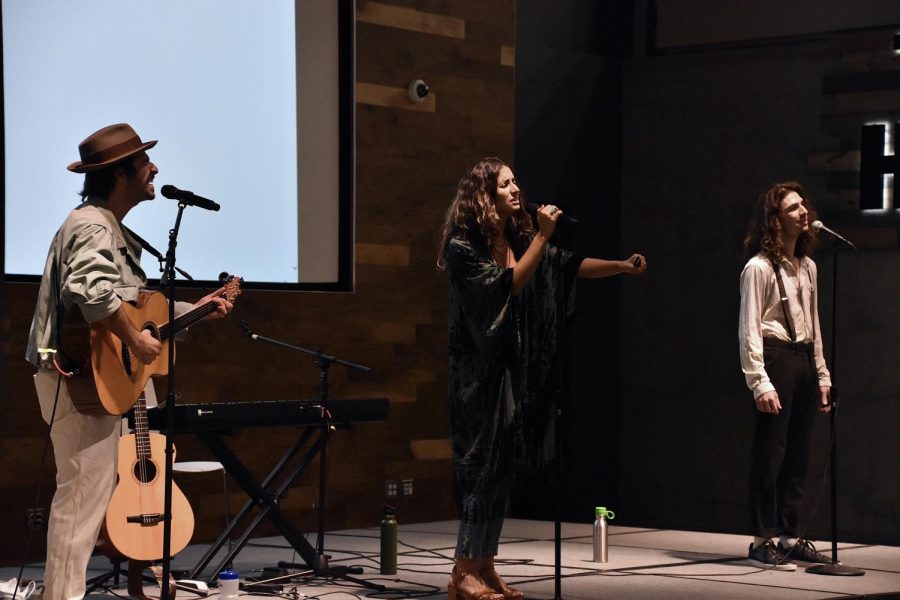 WXOU Brings Fall 2021 Main Stage to Habitat – The Oakland Post
[ad_1]
On Thursday, September 16, WXOU performed their fall concert on the Main Stage on the Habitat Stage at Oakland Center.
The concert has become a staple tradition for the resort over time. Due to COVID-19, however, the OU campus was deprived of the welcome event last year.
WXOU Program Director Jayme Starr played a big part in the performance of the evening this year.
"The Fall Main Stage is an event that […] we like to do to attract as many new kids as possible, "Starr said. "Being able to organize an event to attract the attention of new students [and] maybe students who kind of forgot about us – we do this every year depending on the state of the world, and this is our first event after COVID-19, so [we've been] I'm really trying to get, hopefully, a good result this year.
The prolonged absence of live music was not unique to the OU campus, of course. Last summer marked a sharp increase in the resumption of touring after some time without dealing with the pandemic – and WXOU feels proud to be a part of that moment, reintroducing students to live music.
"It really feels good, because music is such a unifying thing," Starr said. "We can all bond as an OR community through music, which is really special. "
The evening began with a performance by opener Ellen Wallenfang, an elder at OU who studies voice and jazz at the School of Music, Drama and Dance. Wallenfang greeted the event attendees with a soulful voice against the keyboard, performing a moving rendition of Sara Bareilles' "Gravity" as well as an original song.
Next, Diminished Harmony, a group made up of three OU students – Phillip Christiansen, Katherine Lengyel and Cayla Stus. The trio joined forces in 2020, with their performance on the main stage marking their debut.
"I really hope [the audience] I saw three people there who were just looking to really bring the joy of music to people, "Christiansen said.
After powerful renditions of Journey's "Don't Stop Believin '" and Gotye's "Somebody That I Used To Know", Stus went on to perform two of her own original songs, before she and Christiansen closed the set with covers of "When I Was Your Man" by Bruno Mars and "enough for you" by Olivia Rodrigo.
The folk group The Heartstrings Project then took to the stage as the headliners of the event, their three-part harmonies and their acoustic styles invade the Habitat with fierce warmth. Songs like "just a lil bit" and "run" marked memorable moments on set, successfully producing huge applause from the audience. The trio – consisting of brothers Luke and Elias Wygodny as well as Marina Pires – told stories of their own origins and that of their music between songs, inviting audiences and establishing palpable intimacy in the space.
"It's great to sing and perform for people in person, so thank you for being there," Luke Wygodny said on stage.
The event also featured raffles for two different ticket prizes – people aged 21 and over could enter to see Tyler Henry from "Hollywood Medium with Tyler Henry" from E! live on her upcoming tour, and a raffle to see Disney Channel alumni Aly & AJ live in concert was open to all ages. Several winners returned home with pairs of tickets for the latter – and while most of the raffle tickets were used to see the group, those interested can expect WXOU to hand out Tyler Henry tickets soon on social networks.
The show ended with a reminder from Starr that more main stage events are underway in the near future. Students wishing to follow all the news of these events can follow WXOU on Instagram @wxou to stay tuned for more information.

[ad_2]