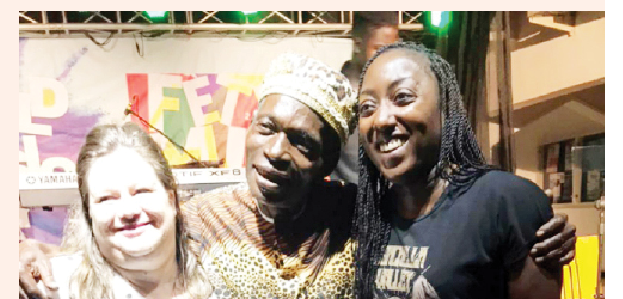 When Ikujenyo's 'Age Of Aquarius Band' Others Delighted Audiences In Abuja
The excellent performance of the French Institute of Nigeria in Abuja will not be soon forgotten.
Jazz musician Duro Ikujenyo and his band, the Age of Aquarius Band, serenaded the audience with great music and Afrobeat tunes reminiscent of the late legendary Fela Kuti.
Held last Friday in commemoration of World Music Day, the event brought together a potpourri of proven and successful musicians. The event kicked off on a high note with the sultry Michelle Tchacldo, who sang 'African Unite' and Favorite enthused by a popular tune, 'Je t'aime'. Others like Zaitc & Leon, ThankGod, Fred Williams and Zainab Sule who played skillfully with his guitar.
Few people knew that the French Ambassador to Nigeria, Amb Emmanuelle Blatmann was among the dignitaries who graced the event. Amb BLATMANN was accompanied by Christelle Folly, French Cultural Attaché to the French Ambassador to Nigeria and Lucas Bonheur.
The Director of the French Institute, Mr. Rafael Pont, appreciated all the dignitaries and guests who came to celebrate the 41st anniversary of World Music Day, saying that music is a universal language. He praised the ambassador for taking time out of her busy schedule to honor the historic occasion, and also entertained with her rare musical offering.
The main attraction of the concert, dynamic musician, songwriter and recording artist, Duro Ikujenyo and his seven-piece band, Age of Aquarius, entertained with different songs and kept the audience dancing.
Duro, who had more than 35 years of experience in the music industry and pianist of the late Fela Kuti, composed a theme song for World Music Day, composed by Duro. The group with a trumpeter and a saxophonist and others, performed Fela's timeless 'Water No get enemy' and songs from his latest album titled 'Bkack and White Oha' to wild applause from the audience.
Mr. Ikujenyo spoke about the power of music and how it could galvanize change and make the world a better place. Indeed, the audience had a great experience when the concert ended with the band Age of Aquarius for over an hour.
Earlier, Seth wowed the crowd with reggae tunes and sang Bob Marley's "Redemption Song" and "It's Gonna Be Alright" beautifully. Isomers and poet and singer-songwriter, Ruth Mahogany, who played guitar, sounded that Nigeria has talents and creators that should be developed.