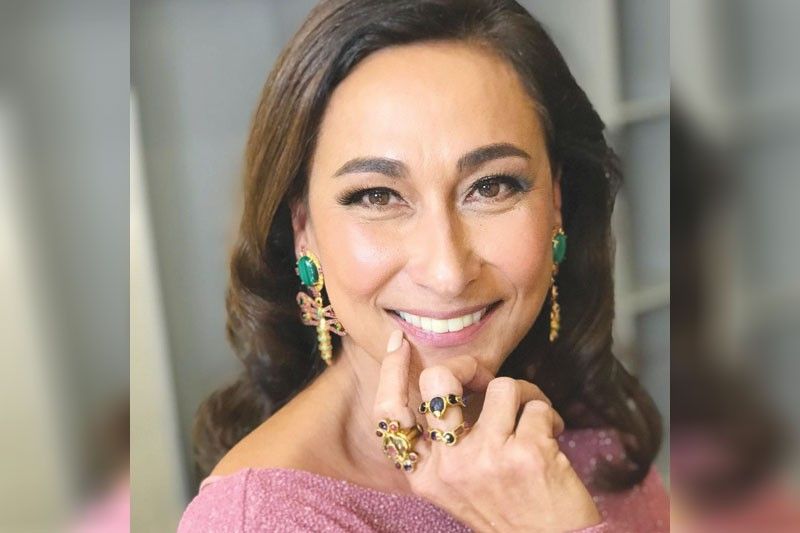 Remembering the good times with Cherie Gil
MANILA, Philippines – I remember in the late 60s (?), when I was just starting to cover entertainment, I got a call from veteran co-scribe Doug Quijano (he was ahead of me in the three-year-old media, I think).
D: "Are you free tonight? »
B: "Yes, naman, but not before the wee hours of the morning"
D: "Eddie Mesa and Rose Marie Gil invite us to dinner at their place, sumama ka na. They want your presence, ha. Kwento, kwento (now called chika-chika) lang.
We had some pictures taken (but now I can't find them, I'll post them if…).
So I did, we were there. We were close to this couple, Michael de Mesa's parents, Mark and Cherie Gil — they're the Eigenmanns. Eddie was then the Elvis Presley of the Philippines. Rosemarie began her career as Premiere's Sta. Rita deCasia. Little did I know that this clan would later be the largest family of A1 screen performers.
We were shocked by Cherie's sudden and tragic exit and it got us chatting with good friends who shared their stories.
Let's listen to what they say.
Lloyd Samartino: "Problem Child in 1980 was Cherie's launch movie and I was chosen to be her leading man. We had an interesting experience on that movie, directed by Elwood Perez. I was blown away by Cherie's guts in performing her role as a spoiled brat and our love scenes as well.We also had her mother Rosemarie Gil playing her mother in the film which added to the reality of their scenes.On the contrary this film has cemented our lifelong friendship and my admiration for the actress in her. She moved on to bigger and better things in her career and we worked on several soap operas. Cherie is a top notch actress, a rebel, an intellectual. This cancer diagnosis took us all by surprise and I will always miss her sharp tongue and wit. There is no one like her in my generation. Fly away with God now Honey!
Hazel Orencio: "When we went to Berlin for Hele sa Hiwagang Hapis, there were all nine of us there – Piolo, John Lloyd, Tito Bernie, Cherie, Angel, Tita Susan Africa, Joel Saracho, Alessandra de Rossi and me. It was so much fun, and just like in a Lav Diaz set, it felt like we were all equal…
"Cherie was the fashionista of the group. Alex and Tito Bernie always teased her. But when we all saw Meryl Streep on stage and even after the party, she was no longer Cherie Gil, the fashionista; it was Cherie Gil, the fan girl. I had never seen her so happy before. Her face, her expressions, everything about her lit up. I don't even remember if she even touched her food; she drank wine for sure and when she got drunk she took a picture with Clive Owen. I would say she was the most giddy of us.
Joel Torre: "Cherie was family to me. She would say I am an adopted Eigenmann and I told her she was an adopted Ilongga with the Ilonggo mafia. She's one of my favorite co-actresses. We shared a lot of screen time together as well as happy times.
GR Rodis: "I managed her singing career for a short time after her Champoy TV show. I would tease his son Jay that his mom and I broke up because of him. She was pregnant with him when we were doing a two week gig in Indonesia with Marco Sison and the band 8th of Sept. She was so grumpy, being difficult, because she was pregnant but none of us knew about it. Maybe she didn't even know it at the time, so I quit as manager but soon we reconnected as friends. I even stayed with her when she was married to Rony Rogoff and lived in New York. She was ultra talented and matured into a generous and warm human being who will be missed.
Maritesse Gutierrezonly child of Juancho Gutierrez and Gloria Romero: "It's hard to talk about her now without shedding a tear. We practically grew up together, I'm a year older and we went to the same school, St Paul's Our mothers usually had movies and TV appearances together and sometimes Cherie and I would hang out in the studio – the biggest reason was that we had to ask our mothers for money Cherie has always been everyone's good friend. our barkada – never became a beachhead even after its popularity peaked.
"I remember once when she disappeared for a month, I was worried. Guess what I found out? She stayed at an inn in Sonya's Garden, a story told to me by the one of the waiters when I dined there: "Dito po tumira si Cherie when she was going to play a play, she couldn't be bothered — she made sure na she studied her part perfectly. Yes, she was so devoted to her occupation.
"When I was raising a child in the United States, Cherie was already married to Rony Rogoff. She called me and invited me to stay with them. She even asked for her help to take care of my son and of my dog ​​while she entertained me. What a generous friend. I love her."
Anna Ylagandaughter of Robert Arevalo and Barbara Perez: "Long before the world knew her as Mrs. Cherie Gil, she was simply Cherie, our childhood playmate, our godmother. Our mother, Barbara, was her ninang. My sister Gina and I spent countless days with Cherie in each other's homes, playing in her room or ours while our mothers played mahjong. She even dressed me once in her walking doll clothes much to my mother's horror. Mind you, before I wore the dress, Cherie even "ironed" it with her toy ironing board. She stopped me and said, 'Wait, I'll plancha it first!' Haha!
"She was already a performer long before officially entering show business. I still remember very well her very poignant and captivating monologue at the school of Guilty or Not Guilty which left everyone in awe, you could literally hear a pin drop.
"Cherie and I also shared so many secrets. Even though we were almost the same age, she was always more mature than me and taught me too many new things about life. I'll never forget how she reacted when people often made that annoying mistake of calling her 'Cherry' (as in 'Uy, if Cherry Gil!'). She would slowly turn her head and with that Lavinia Arguelles "if looks could kill" look, she would slowly reply, "That's… Cherie." But on her softer, nurturing side (which she had a lot), I still remember how much love and excitement she radiated when they were blessed with their new baby sister, Marnie (Marie Elaine Narciso).
"And now reality bites. Farewell, dear darling. Even back then, you were already larger than life. Everyone writes their own story about you. How you are loved! You left an important mark in your short but colorful life. Go with God to the place He has prepared for you in His beautiful home up there. What a wonderful reunion you must have with Ralph. Tight hugs, Tita Rose, Tito Eddie, Michael, Marnie and the children Eigenmann and Rogoff. May the good Lord comfort you and grant you his wisdom to help you through this very difficult time.
Barbara Perez: "Cherie as a child was always present in my house as one of my daughters. I always heard her laughing with the girls in the other room. And on school days they would carpool. They grew up together to become brilliant young women each in their respective fields. Whenever Cherie was asked to speak before a show, she would always mention that I am her ninang, especially if I am in the audience. I wanted to say more but that's so painful. I can't anymore. Sometimes you wish these girls didn't have to grow up so they wouldn't suffer and get sick!
Gina Alajar (Gina is the ex-wife of Cherie's brother, Michael de Mesa): "My precious memory of her is when she starred in Onanay, a drama I directed where she was the main kontrabida against Mrs. Nora Aunor.. such a versatile actress! Kapag meron akong binigay na kanya idea, mag-iisip siya ng kaunti, yun pala nag-iisip siya kung paano niya gagawin. She had some taray moments in the production but I didn't mind as long as she delivered…." She was a gem.
"We had a very good working relationship after Onanay, she had to star in a segment of Starstruck na kaeksena niya ang mga candidate… Medyo nagkaroon ng problem and hindi ko madi-direct ang segment but she said that kung hindi ako ang director , hindi lang nya gagawin It was the sweetest gesture she ever did for me and my entire team.
"Then the pandemic came and she had an offer to do Legal Wives, but that meant locked recordings. She called me and asked kung OK ba ang lock-in taping. I assured her that everything was fine and that she had nothing to fear from the kaya ginawa niya ang project. These are small things that last a lifetime.
We all love and miss Cherie.