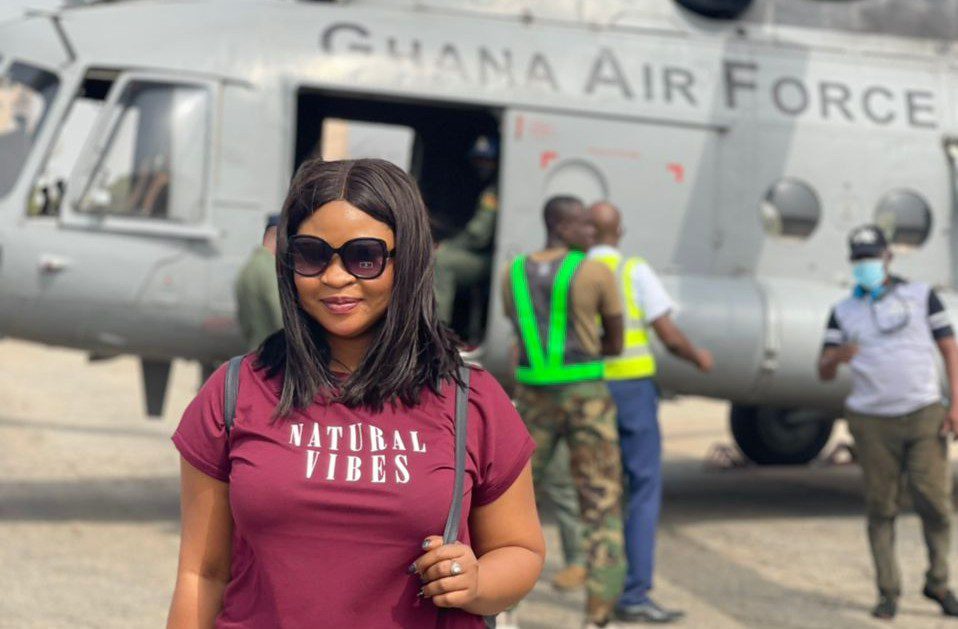 Rebecca Tweneboah Darko: My first concert 'Made in Taadi' and flight on 'Air Force 1'
"Gratitude turns what we have into enough."
Before I left Accra for the oil town of Takoradi, it was just another event I had to cover. We get there, get the job done, and move on. I said to myself.
But of course, things turn out differently. We certainly have no control over the future.
We arrived in Takoradi at 1:00 p.m., visited the venue right after check-in. I met Kofi Kinaata's older brother who was so nice to us, gave us all the updates we needed, walked us back to our car and made sure we were picked up.
Back at the hotel, I called Kinaata to make sure he was okay. This was mainly because his brother had revealed that the Kinaata hadn't slept all night since he wanted everything about the event to be near perfect!
I wanted to help what little I could. But Kofi wouldn't let me do it. He assured me that everything was under control. I slept after this conversation. Four hours later, I was ready for the event with my colleagues; Sandra Akakpo and Albert the camera technician.
We left at 10:30 p.m. and arrived at the scene at half past midnight due to human trafficking. The whole town was outside. Everyone seems to be heading to TTU Park for the concert. We had the help of the soldiers who took us close to the scene.
I have to say that the over 10,000 music lovers gathered are the most receptive audiences I have ever seen. They really sang all the songs of one of the musicians who took the stage that night. From Empress Gifty, Mzvee, Sefa, Keche, Donzy to Amerado and man of the moment Kinaata, the crowd certainly couldn't have asked for a better Christmas present this year.
I had so much fun that I forgot that I had been up for the 12 hours of the show and conducting interviews in between. At 5:00 am, a soldier offered me a seat while waiting for Kofi Kinaata to come on stage for the second time. I had a conversation with this receptive soldier.
We talked about dealing with the artists and their fans. He showered me with praise for my hard work as he follows my work on the JoyNews and Joy Prime canals. Kofi came back on stage and we knew it was time to stop.
He asked me when I was going back to Accra. I replied, "the same day by a land cruise car made available to us." Then he declared that his colleagues from Accra will leave the same day with the "Air force 1". "I can arrange for you to accompany them if that interests you," he said.
I didn't think about it, I said yes! Will it be cool? I have flown in different planes but have never flown in a helicopter so why not? Let me give myself the opportunity. In the end, he made arrangements with a lieutenant in Flt Atiemo who quickly asked for our full names.
Kofi Kinaata got off the stage at 5:40 am, we followed him to his hotel where we had a little note from him just right to write a balanced story.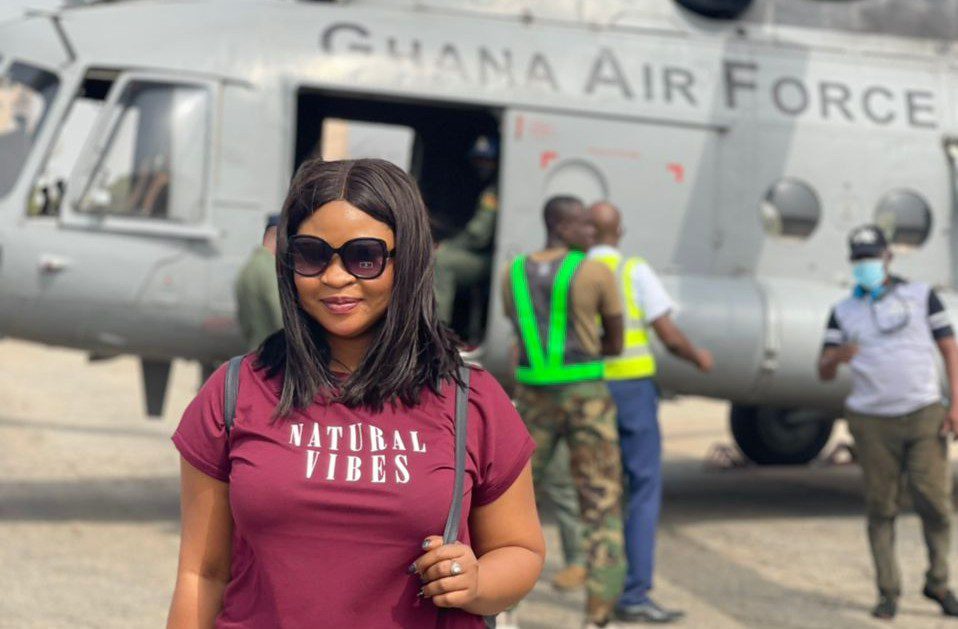 Kofi told us he had to go back to Accra for another program on the same day and I was so quick to tell him that we are also going back that morning so that we can catch up with the other events in Accra.
The initial plan was to stay a little longer to experience the famous masquerade night but I have a flight at 8am! My very first treat for the Air Force. We rushed to the hotel to pack our bags and then left for the airport.
We arrived late, we were asked to sign a document which is a consent form to indicate that we fly at our own risk and that the military will not be responsible in the event of any misfortune. This was the start of my fear.
We were rushed into Air Force 1, we were made to sit in an uncomfortable reserved seat and what attracted me were the windows left open! I sat down by the open window.
I said a prayer when the engine started and then got a helmet to keep my wig from falling out once we took off. When we finally took off, I slept like a baby. I was tired. Very exhausted.
When I woke up we were about to land. It was an absolute honor to have flown on an Air Force helicopter on Christmas Day!
I would love to relive this experience.