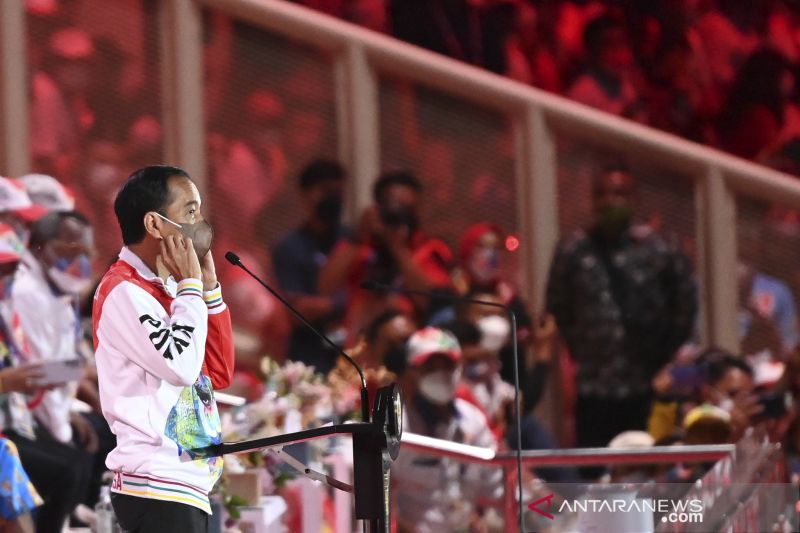 President greets audience in native Papuan language
Huwe faith, onomi rehmay, wa wa wa.
Jayapura, Papua (ANTARA) – Indonesian President Joko Widodo (popularly known as Jokowi) greeted the audience using three phrases from the Papuan language during the opening ceremony of the XX National Sports Week (PON) Saturday.
"Huwe faith, onomi rehmay, wa wa wa. Long live sport! " local.
As witnessed ANTARA, President Widodo's use of native phrases generated huge applause from the audience, whose numbers were limited to 25% of the stadium's total capacity due to COVID-19.
The three sentences are often spoken by people living in the eastern region of Indonesia.
Related News: President Widodo officially opens PON XX in Papua
The coordinator of the Inter-organizational Papuan Youth Forum and the 20th PON Festival, Otniel Deda, said ANTARA here on Saturday he enjoyed and was proud of President Jokowi's greetings.
"I am proud that President Joko Widodo can greet the people in one of our languages," he said.
Related News: Legendary Papuan Athletes Carry PON Flag During Opening Ceremony
He said his forum hopes that in the future more people will be able to understand the distinctive languages ​​of Papua.
At the same time, in his speech, the President also expressed his pride at having officially inaugurated the PON hosted for the first time by the province.
The first game of the national sporting event took place on September 22. The event will run until October 15, 2021. Currently, the Jakarta contingent is at the top of the PON medal ranking.
Related news: PON Papua, symbol of common victory: Governor Enembe
Related News: President Plays Football With Papuan Children At PON Opening Ceremony