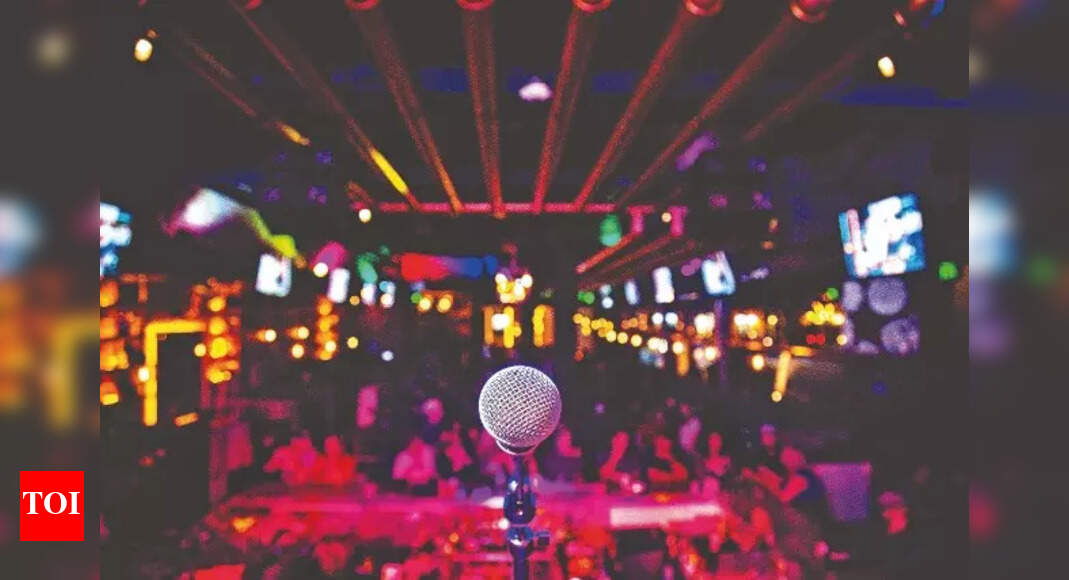 More shows, diverse venues, growing audience: Kolkata goes LOL as comedy gigs return
As live performances are making a comeback with the pandemic situation under control, Kolkata is also seeing an increase in live comedy concerts. After streaming online for nearly two years, the comics are happy to finally tickle the funny bones of audiences in person. Not only comics based in the city, but also nationally known artists are now holding several shows here. While Kunal Kamra, Saikiran, Anirban Dasgupta have been performing in the city recently, Atul Khatri, Aditi Mittal and more are ready to make the
audience
laugh soon.
Audience muted against bursts of laughter

Most comedians survived the hit of the pandemic by resorting to online shows. Ask them what they missed most about the live concerts, and they almost unanimously say the roaring laughter of their audience. "For a comic, involving the crowd is important, but we have to keep the audience quiet during online broadcasts," said city-based comic Shantanu Mitra Neogi, adding, "So whenever I made a joke , I couldn't hear them laughing. It's so unsatisfying. Highlighting the good part about virtual concerts, Shantanu said it's more intimate because we can have a one-on-one exchange with our audience." In the halls, we don't see all of our audience," Shantanu said, adding that recently there has been an increase in the number of open mics and shows in Kolkata, and even the size of the audience is getting bigger. "C is an encouraging sign," he smiles.

Atul Khatri, who is due to perform in Kolkata on April 10, said, "Like music, drama and other art forms, stand-up comedy also thrives on live audiences. Especially since we feed on the laughter of our audience. You laugh when the audience laughs. Atul was one of the first comics to jump on the online bandwagon and did several virtual gigs during the shutdowns. "I had no choice because I have a family to take care of. But there's no such thing as a live audience. When I came back on stage after the Covid break in 2020, I was as nervous as before the first show of my life. But the laughter and audience engagement helped me unwind in just 15 minutes," he added.

Speaking about the worst and best of virtual shows, Atul said, "Online shows are like monologues. We have to keep our audience quiet as most of them are joining from home. If we didn't mute them, everyone would hear the whistling of pressure cookers, the barking of pets, and the sounds of other household chores. But when handled well, online shows can be great and I've done several.
Stand-up comedy isn't just about telling jokes

Besides the instant feedback from the audience, another reason artists prefer live concerts is that it gives them a chance to express themselves in more ways than just cracking jokes. "Stand-up comedy isn't just about telling jokes. It's about a funny man telling his stories. For example, I came up with several ways to engage my audience in my stuttering. My body language, my hand gestures, my facial movements – it's a combination of everything that makes people laugh," Soumit Deb said.
Varied venues, growing audience
Soumit, along with Shantanu and several others, also performed at the recently concluded Kolkata International Book Fair. "The fact that we were able to perform at the book fair this year proves that Kolkata is gradually preparing for stand-up comedy and embracing it as an art form," Soumit said. Agreeing with him, Shiladitya Chatterjee said stand-up comedy takers are on the rise. "For years, I did stand-up in Hindi because of the audience I catered to. We used to play in cafes and resto-pubs, where the majority of the audience were members from the elite of society. However, after the pandemic, comedy is gaining momentum. Now the audience is much more diverse. This is also due to the fact that there has been a diversification of venues. Our shows are now being performed in traditional theater venues and the audience is showing us a lot of love. I think the more diverse we are, the better," he said.
Actresses face limits
While several female comedians have killed the comedy scene nationwide, their number is not so high in Kolkata. "It's not that there is any kind of discrimination in the stand-up world in Kolkata. I perform as much as others. However, in our acts, the audience only demands a certain type of comedy – talking about our personal journey, denigrating patriarchy, tackling social stigma, etc. While men can explore many other avenues in terms of content, we face many limitations there," said Sridisha Chakraborty , an actress.