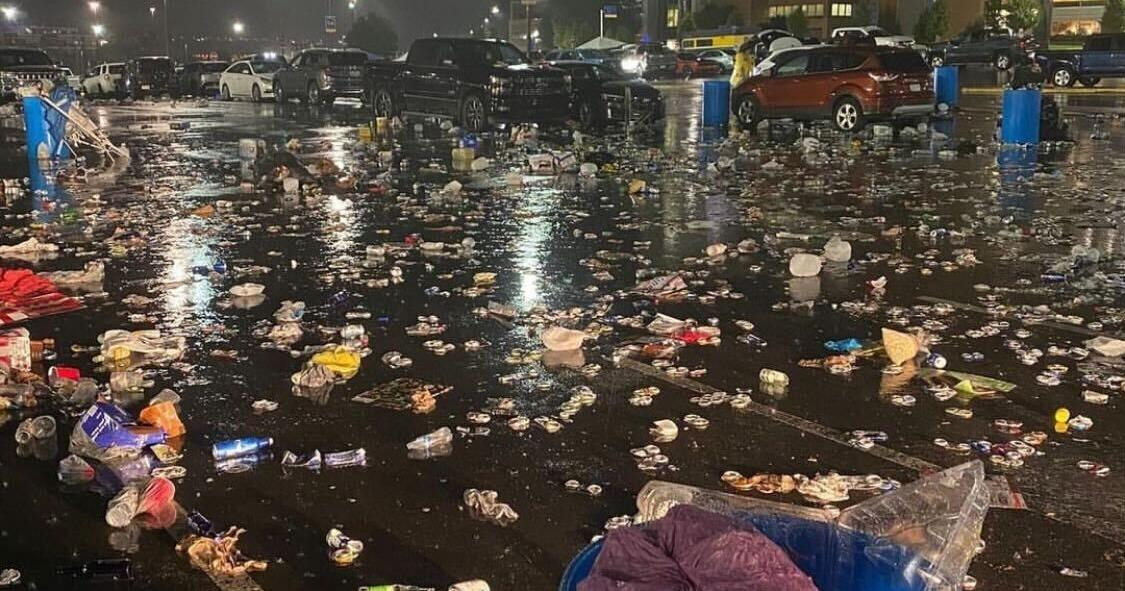 Hospital workers tell fans to put a lid on blue lot trash | UVM News
WVU football is still in full swing, and some hospital workers say they're sick of the "trash" disrespect left behind after singing "Country Roads."
Describing the Blue Lot, a prime hooking point at WVU, as "massive destruction" after a match, Ruby Memorial nurse Melissa Taylor said she was unimpressed.
"I think as a community it looks bad," Taylor said. "I appreciate, you know, how much revenue the games bring in, and I appreciate what it's doing for the school, but I just think we could do better…I don't understand why there's so much garbage on field."
The Blue Lot is notorious for the trash left behind after hours of tailgating, and a particularly large amount was left behind after WVU were taken down by Kansas in the home opener this year.
After the game, @dartywvu and @wvubarstool posted a picture on Instagram of the pitch covered in rubbish, saying it was a "perfect metaphor for the current state of our football team".
Although the behavior was intended to stick it to head coach Neal Brown after the loss, two Ruby Memorial employees said they were offended by the mess.
"In general, I think [patients] enjoy the fanfare," Taylor said. "But when it's over, it's just terrible."
Taylor said big street sweepers pick up trash after every home game.
Milan's Puskar Stadium opened in 1980, followed by the Ruby Memorial Hospital in 1988, so the ground does not rightfully belong to the hospital, according to communications director Shauna Johnson.
"[The lot] is leased to the hospital with the understanding that, on home football game days, the field is controlled by WVU Athletics," Johnson said in an email, noting that any disruption is "minimal."
Although the hospital has full control of the lot every day except for five to six home game days a year, those days are still a problem, according to Ruby Memorial patient monitoring technician Megan Boyce. .
On game days, the hospital's main parking lot is completely closed, leaving only one offsite lot available for employees, according to Boyce. She said the offsite lot forces employees to arrive up to an hour early to get to the hospital, and that inconvenience often affects staff in more ways than one.
"Staff are already shorter on game days, and you have a lot more calls because people don't want to deal with traffic," Boyce said.
Boyce said many patients are also inconvenienced on game day.
"Patients definitely feel it because there are separate entrances that visitors now have to go through," Boyce said. "They have to jump through all these hoops just to be able to come see their family members on game days."
Taylor said the doors to alternate entrances also needed to be closed and locked on match days to prevent attendees from overcrowding hospital facilities.
"I don't even know where a patient walks in," Taylor said. "[Employees] have to go through cross roads with our badge.
The contractual agreement between the University and the hospital prevents many of these inconveniences from being resolvable.
"I love the pride of the Mountaineers and their team. I just don't understand garbage," Taylor said. "I get it. I went to WVU, but can we just behave better?