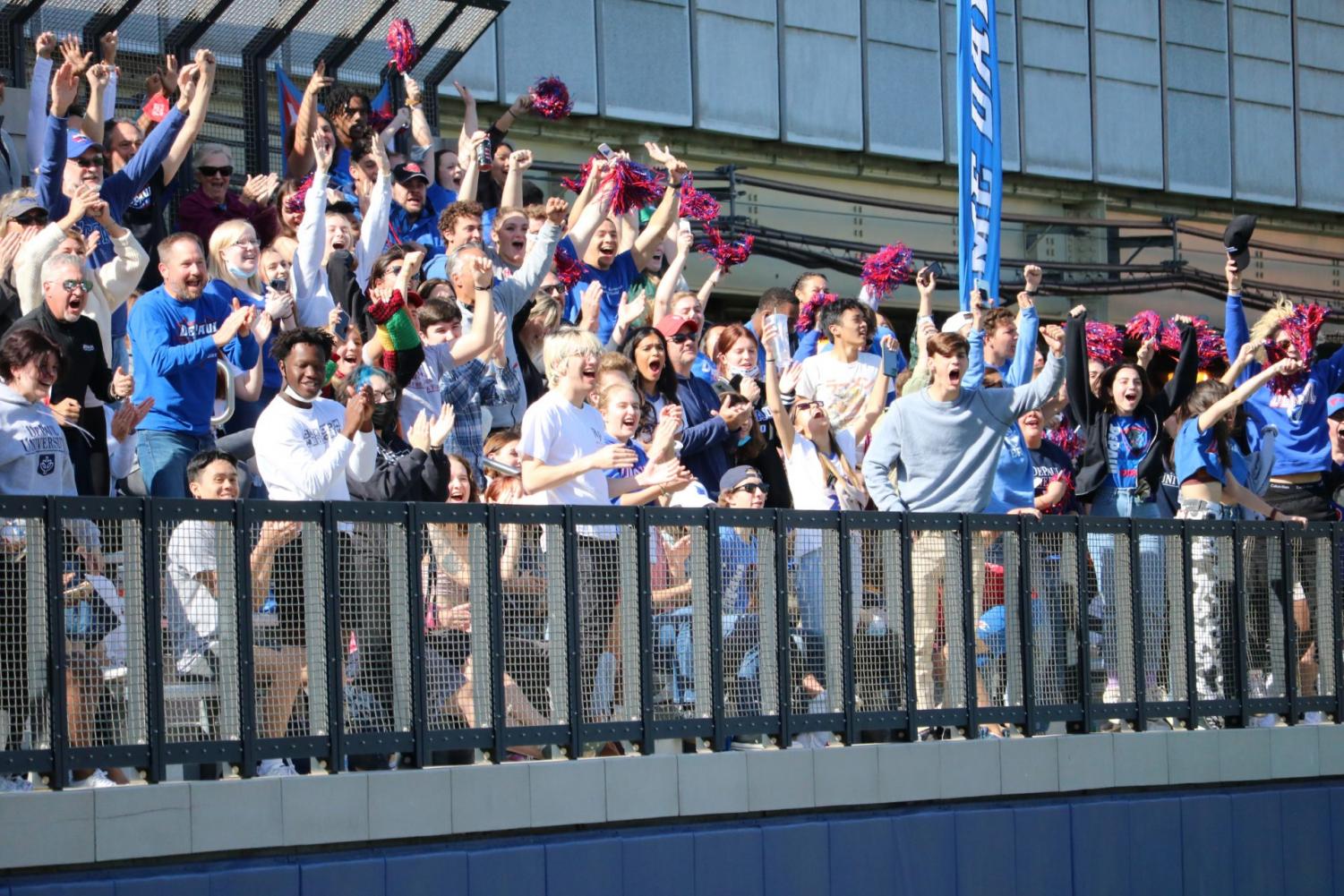 [ad_1]
In empty arenas and silent stadiums, the bare stands and lack of fans only stand out.
Silence pervades all aspects of the game, making it easy to get lost in thought and hard to concentrate. When the environment is more like a practice, getting into a play mentality becomes even more difficult.
This is what DePaul athletes went through last season when Covid-19 forced season schedules to change and fans to stay home.
Fall sports, such as soccer and volleyball, saw their seasons shifted to the spring of last year, where they played against Big East teams only in a shorter season. When men's and women's basketball began last season in November, no fans were allowed inside the Wintrust Arena.
Now that the fall seasons are underway, young athletes perform in front of DePaul fans for the first time, while older athletes can once again enjoy the feeling of playing in front of an energetic crowd.
After playing her last year without fans, Morgan Turner, DePaul's female footballer, was able to return as a graduate student to play in front of fans and family for a fifth year.
"Our last home games, the energy has certainly been a lot stronger and more positive than in the last year, so it was super exciting," said Turner. "It's also super fun to see so many students in the stands. I think we've definitely had a lot more students this year than I've ever had in previous years, so it was also really great for us to see.
Football teams play at Wish Field, right in the heart of the Lincoln Park campus. Still, the closest fans could watch last season's games from Fullerton station which overlooks the pitch.
"Leaving last year without having any fans, [where] we had people standing outside the fences trying to watch our games, our Loyola game where it was packed, we had so many fans, which was amazing, "said Grace Phillpotts, sophomore soccer student. feminine. "I really think the energy of the fans continues on the pitch and it creates such a more exciting environment to play in."
The stands were overflowing with fans when the women's football team faced red-line rival Loyola Chicago on September 9, with 466 fans in attendance.
Fans are more than faces in the crowd. In addition to being family and friends, fans also help bring energy to the building. They help build momentum when the team loses a point or give extra momentum when the team leads and finishes a game.
For second-year volleyball student Hanna Karl, her first time playing in front of DePaul fans was at the DePaul Invitational on September 10-11 after spending her first year playing in empty gyms with only the sounds of the teams. .
"I think [fans] helps distract you from the small parts of the game, "Karl said. "It was very different last year because it was extremely quiet, which nobody in the volleyball world is used to, and so I think having that white noise in the background made us feel certainly helped to be able to clear our minds much more easily and just move on to the next point.
Second-year men's soccer goalie Gandhi Cruz also made his debut in front of the fans in the season-opening 2-1 loss to Loyola Chicago on August 26.
However, one of the men's team's biggest appearances this season came on Alumni Day with a 3-1 victory over Oakland University on September 18, with 402 fans in attendance.
"I think it was a really good experience because I think with the fans on our side I think it helped us to move forward and give us a boost to win the game." , said Cruz. "I think it really helped us and I hope that for the games to come we will have more fans."
The biggest crowd at Wish Field this year was Saturday, when the men's team faced conference rival, the University of Connecticut. There were 501 fans in the stands to cheer on the Blue Demons as they beat the Huskies 2-1 for their first Big East victory of the season.
Now that the fans are back, the Blue Demons are able to share every goal, every point and every highlight with those who cheer them on. And, in return, fans can help give teams the energy and momentum to score those goals and points.
"I think we've taken the fans for granted in previous years," Turner said. "And then last year, we didn't realize how much we missed them until we had so many this year."
[ad_2]